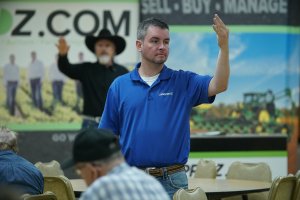 The auction method of marketing is by far the preferred and most popular way to market land. Why is that you might ask? True price discovery or fair market value in that location on that day. Auctions are not only fun but give potential buyers a sense of urgency and competitive outlook during the bidding process.
What can I expect on auction day? Our auction team will gather at the auction that morning meet and greet potential buyers in the hours leading up to sale time. Sale time our auctioneer will go over all of the terms and conditions. Once we have answered any and all questions and the bidders are comfortable we will start in with the auction process. Bidder assistance will walk through the crowd and collect bids and answer questions as the auctioneer calls out the asking price, then we hold the bid and break for a few minutes. Many times we get asked the question what if my farm doesn't bring enough? This break is where we will talk with the seller to establish if we have reached their expectations. We believe in taking breaks because buying a farm at auction we want everyone to have an opportunity to bid and sometimes buyers need a break to make a phone call to call a father, wife, son, daughter, banker, or investor. Once we have ok from the seller or sellers (in private) that they are willing to sell their farm for the amount we have bid we will come back from the break and inform buyers that the farm will be sold that day. At this point we will open the bidding back up and eventually sell the farm to the highest bidder.
With 75 years of combined experience in the auction business and over 181,000 acres sold our team brings you one of the strongest selling teams in country. With technology changing constantly our team has made vast changes along the way to bring our clients a state of the art marketing approach. With the Internet and social media on the rise you have to look outside the box to reach every potential buyer. There was a day when a few fliers and a small print ad in the local paper was enough to reach who you needed to reach, well today we have implemented online bidding, drone videos, television commercials, paid Facebook ads, Instagram, Twitter, online classifieds, online land sale websites, general for sale sites, and bulk post card mailers just to name a few. We also take time to connect with neighbors on a personal level to inform them of your up and coming sale and answer any questions they may have.